cours pour les enfantsfrench classes for children
1. Children under 6 years: who do not read or write yet. Emphasis on workshops with max 5 -6 kids – Artistic workshops: painting, sculpture, collage ….. to learn vocabulary – Game workshops : dominoes, snakes and ladders, 7 families etc ….. to acquire automation language – Round, rhymes, role play, songs …. to speak French while having fun – All these varied activities never last more than 20 minutes 2. Children between 7 and 9 years: who can already read and write .. A more classical program including the above workshops + study visits in town in stores, library , markets, cafe terraces, Cultural Center with Cyber media library, Town Hall, et.c ….Both oral and written exercises. 3. Children, 9 to 12 years, advanced in French: a now phenomenon that we have been witnessing more and more in recent years. Boys and girls from English schools in Canada, the States, Mexico or other native schools in Europe, attending an accelerated program in French and who enroll in our summer program in France, to practice and improve their oral skills … 80 – 90 % of the time in classes, will be devoted to spoken French on many various subjects … For that purpose, your child will have an unusual talented and outgoing young French teacher with much charisma, who made a great success this summer 2014.
Schedule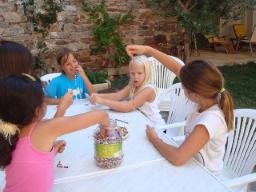 4 lessons of 45 minutes in the morning from 9:00 a.m. to 12:30 p.m. including a 30 minutes break. Monday through Friday. Whenever possible there will be participation by French children in the same age-group to insure a more realistic atmosphere in the classroom. The group will be divided into two sub-groups, ages 4 – 8 and ages 9 – 12. Five children per sub-group max.

Games " en francais " around the table under supervision of the teacher

Trackback from your site.